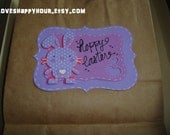 Easter Gift Bag
-Recycled paper bag 8" w x 10" h opens up to 3 1/4"
-Paper handles with matching Purple ribbon tied to each side
-Decorated with Pink and Purple paper, Cotton Candy bunny with Easter sentiment
-Bag is decorated on both sides
-Comes with Pink and Purple tissue paper
**Great for Easter coming up!! Gift some-bunny special a cute little gift!!
Click Here to Visit My Etsy Shop!